I hate sanding, I always wished that there is a way to paint without sanding. After some research, I found this easy way to spray paint without sanding: It is simply by applying an oil-based spray paint primer like: Zinsser.
Here is my before picture, I just wiped my nightstand from dust.
Then I applied my spray paint primer . After the primer is dry, I lightly sand it with a fine grid sanding wedge to get a very smooth finish.
Now time for spray paint, I used Rustoleum Black Gloss, I wanted to have a glossy surface so my nightstand doesn't look dull in front of my shiny silver leaf dresser. I applied almost 3 light coats of black spray paint. ( always 2 or 3 lights coats are  better than 1 heavy coat, like the nail polish concept).
I forgot to take picture with just the primer on 🙂

Since I didn't distress the nightstand I wanted it to have some movement, so I chose the pulls to be silver so they can pop. I used "Rustoleum Metallic Silver".
This nightstand is in my Master bedroom now, soon I will finish painting the walls and I will have the reveal, make sure you stop by to see it 🙂
IF YOU ENJOYED THIS POST PLEASE ADD ME TO "FOLLOWER" LIST. I'M GROWING MY FAN LIST.
                                                              I've been featured :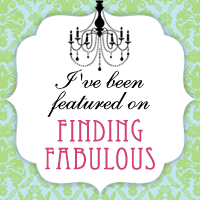 Linking to :  firefliesandjellybeans  remodelaholic ,  thekurtzcorner , thriftydecorchick , bedifferentactnormal , iheartnaptime , thegirlcreative , shabbynest , missmustardseed
 twenty-eight-0-five , creatingahouseofgrace ,knickoftimeinteriors , kammyskorner